Technological advances and a more engaged customer population are pushing utilities and their regulators towards new strategies that promote growth and transformation. This is largely a continuation of changes over the last several decades driven by an increase in the number cost-effective technology options for generating, consuming, and storing electricity. As a result, customers may more directly compete with or reduce the demand for the electric utility's traditional commercial opportunity – electric commodity service. More recently, entirely new technologies, especially automated and intelligent control and information systems, are creating new customer capabilities and expectations.
In many instances, various entities and organizations in the electric industry are motivated to reconsider historical roles and responsibilities. Some utilities are seeking to expand their product and service offerings to customers beyond what has traditionally been provided. At the same time, some state governments, including electric utility regulators, are independently examining how to leverage technological innovations in support of broader reform initiatives that promote electric utility innovation in new revenue-generating value-added products and services offerings, hereafter referred to as alternative commercial opportunities.
A new report by Berkeley Lab, Expanding the Scope of Commercial Opportunities for Investor-Owned Electric Utilities, seeks to organize this evolving set of alternative commercial opportunities and identify the various technical and policy issues regulators will likely need to grapple with as they consider them. Specifically, this report develops a taxonomy that seeks to singularly and comprehensively capture the full suite of existing alternative commercial opportunities as well as the full suite of possible future alternative commercial opportunities.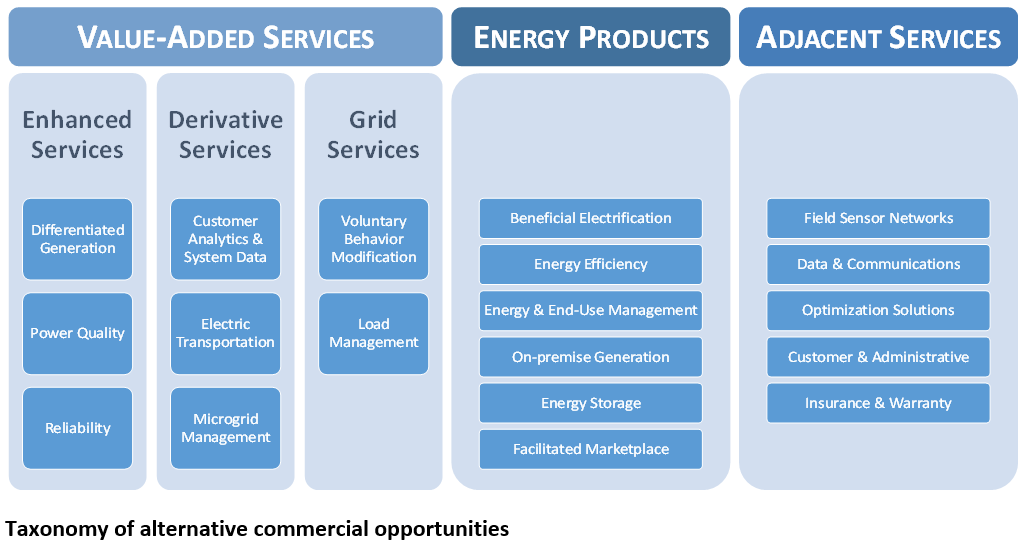 The report also provides a systematic approach to how regulators might navigate these broader reform opportunities, as well as rationalize their response within the context of their state policy strategy and in comparison to their peers in other states. 

We hope this report serves as a resource to support more informed, robust strategic planning for and adjudicative processes concerning alternative commercial opportunities for electric utilities.  
The report is available at: https://emp.lbl.gov/publications/expanding-scope-commercial.
The authors will host a webinar highlighting the taxonomy and technical/policy issues identified in the report on February 24th, 2021 at 12:00 Noon Pacific / 3:00 PM Eastern. Register for the webinar here: https://lbnl.zoom.us/webinar/register/WN_Mcvdzj49SDib2yRWRtm42g.
For questions on the report, feel free to contact Peter Cappers (315-637-0513, PACappers@lbl.gov) at Lawrence Berkeley National Laboratory. 
We appreciate the support of U.S. Department of Energy's Grid Modernization Initiative through funding from both the Electricity Resilience Division in the Office of Electricity and the Solar Energy Technologies Office in the Office of Energy Efficiency and Renewable Energy in making this work possible.