Event Date:
September 5, 2019 - 10:00am
We are pleased to announce a new Berkeley Lab study, Implications of Rate Design for the Customer-Economics of Behind-the-Meter Storage.
This work provides insights for the two main sources of bill savings for residential and commercial customers from behind-the-meter (BTM) storage – demand charge reductions and arbitrage of energy charges – considering a range of customer profiles and retail rate designs.
The study, which is published in slide-deck form, can be downloaded here: https://emp.lbl.gov/publications/implications-rate-design-customer. A webinar summarizing key findings will be held on September 5 at 10 am Pacific Time (1 pm Eastern). Register for the free webinar here: https://cc.readytalk.com/r/nwutegpcdmmv&eom.
Key findings from this analysis include:
In addition to the size of the demand charge, other rate design features are also key to understanding the customer-economics of BTM storage, as observed in the figure below. Whereas previous work has focused primarily on the magnitude of demand charges and related demand charge savings, this study also considers peak-period demand charge designs, demand charge averaging intervals, and time-of-use and critical peak pricing peak-to-off-peak energy price differentials, all of which are significant to determining the customer bill savings from storage. The details of these rate design features can have a significant impact on bill savings – and the payback time – for BTM storage.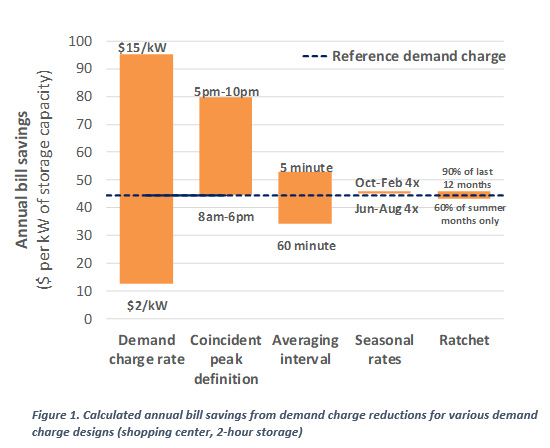 Some customers benefit more than others from demand charge reduction from BTM storage. For example, BTM storage can more easily manage demand charges for customers with peaky loads (such as customers with solar) than those with flatter loads (such as manufacturing customers with high load factors), as seen on the left panel of Figure 2. This will also impact a customer's optimal dispatch strategy for their BTM storage system (minimizing demand charges vs maximizing energy arbitrage).
Among the rate design elements and customer types considered, demand charge savings range from $8-$143 per kW of storage capacity per year whereas arbitrage savings can range from $4-$112 per kW of storage capacity per year (for a 2-hour duration storage system sized at 20% of the customer's peak load). These larger ranges are reflective of the wide variety of demand charge and time-varying rate designs that exist among electricity utilities in the U.S.
With longer duration storage, energy arbitrage savings can be larger than demand charge savings, sometimes substantially large (see Figure 2). Arbitrage savings roughly scale with duration whereas there are diminishing returns to demand charge reductions with increasing duration. This also has implications for sizing of BTM systems.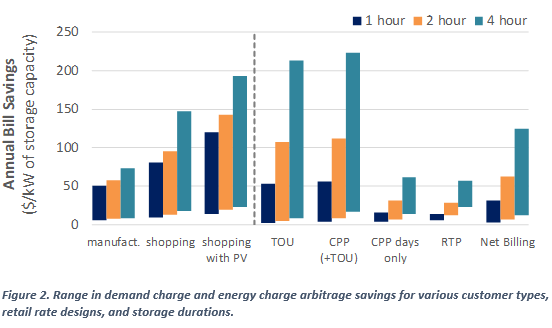 We appreciate the funding support of the U.S. Department of Energy's Office of Electricity for making this work possible.