Berkeley Lab's "Opportunities and Challenges to Capturing Distributed Value via Retail Utility Rates and Programs" explores how regulators and utilities can use rate and program offerings to encourage distributed battery owners to dispatch their systems in ways that provide value beyond individual bill savings for the adopter.
Distributed battery storage deployment has increased in recent years and is projected to continue due to customer concerns with resilience, falling adoption costs, new value streams, and financial incentives at the local, state, and federal levels. As adoption levels increase in tandem with advanced technology that enables a higher level of visibility, communication, and control, retail utilities will have an under-utilized but highly flexible resource in aggregate to support and improve electric grid operation.
A new Berkeley Lab report titled Opportunities and Challenges to Capturing Distributed Battery Value via Retail Utility Rates and Programs provides a high-level assessment on how electric utilities can best align their retail rates and incentive-based programs with electricity system needs in order to encourage beneficial adoption and dispatch of distributed batteries. In addition, this paper identifies a number of considerations and different implementation challenges associated with increasing this alignment and more comprehensively utilizing distributed battery resources for grid services.
Distributed batteries have the ability to provide a number of different services beyond solely the individual customer domain that could improve grid operation at both the distribution and bulk system levels. The ability for distributed battery owners to capture these values are driven, in part, by policies, regulations, and practices promulgated at the state and federal level, all of which have implications for how utilities design and administer their rate and incentive-based program opportunities. Time-based rates allow the price of electricity to reflect seasonal, diurnal, and even hourly price patterns, while incentive-based utility programs such as demand response, non-wires alternatives, and virtual power plants, allow distributed batteries and other DERs to provide direct services to the grid. However, utilities face challenges when trying to balance accurately reflecting dynamic grid conditions with simple and feasible designs. Factors like grid constraints, load growth, DER adoption levels, and penetration of communications and controls could influence how a utility may regard these tradeoffs and, consequently, which rate designs or incentive-based programs they may offer. Currently, most rates and programs are fairly simple. Nevertheless, as penetration of DER and advanced controls increase, more dynamic designs could become prevalent.
Utilities could offer a portfolio of rates and incentive-based programs that stack multiple services to optimize distributed batteries' dispatch and increase their value streams. While there has been significant progress towards reducing market and policy barriers, implementation challenges persist when trying to stack services across distribution and bulk system levels. For example, the distribution utility typically has very little visibility of the real-time operation of DERs beyond any details in an interconnection agreement. This has adverse implications for the utility's effort to ensure real-time reliable and safe operation of the distribution system as well as longer-term impacts on resource planning. Further, there is little coordination between the distribution and bulk system operators.
A DER committing to providing two or more discrete services concurrently also necessitates a clear hierarchy of DER commitments. One way to address this is to separate commitments either by time, by capacity (via state of charge management), or both. This temporal or capacity segmentation could be implemented by grouping types of grid services and exploring which utility rates or incentive-based programs could best address them. The four groups of services include those that are: (1) Cyclic; (2) Peak-driven; (3) Continuous; or (4) Unexpected. For services that follow cyclic, predictable patterns (e.g., seasonal or diurnal), or for those that are peak driven and occur only a few times annually with some predictability, a battery operator can plan ahead to ensure sufficient state of charge for participation. This leaves scheduled time in which a distributed battery could otherwise provide different services by segmenting participation temporally. On the other hand, to provide continuous or unexpected services, a battery operator may use state of charge management to reserve some percentage of the battery and segment participation by capacity.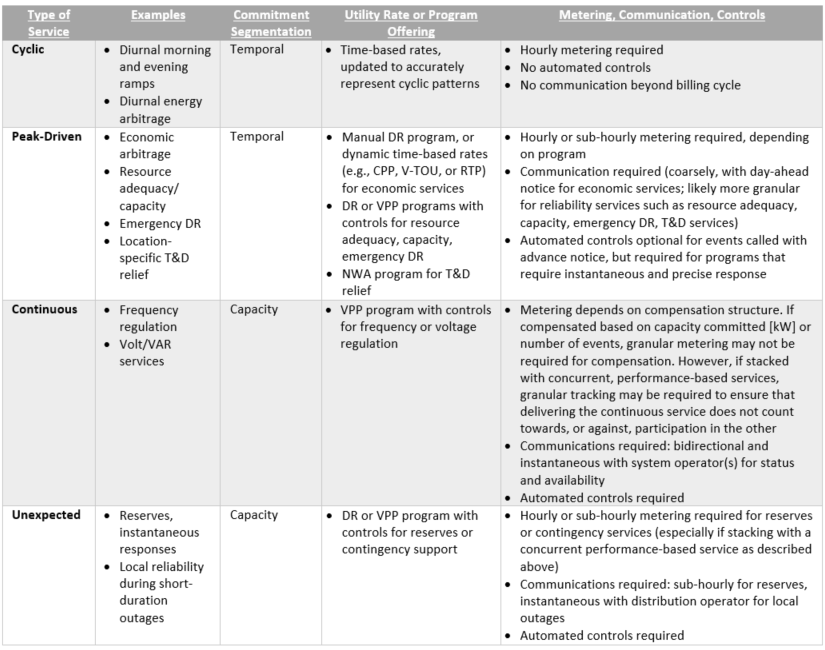 Minimally, temporal segmentation may not require advanced controls and communication, however, would require more customer touchpoints. On the other hand, capacity segmentation can run fairly autonomously based on operational parameters and set modes with customer interaction only necessary in order to override defaults. However, this would require advanced technology to maintain operation within set parameters, respond automatically to grid conditions, and communicate status to operators for dispatch and planning.
Region-specific macroeconomic trends, climate, load patterns, generation profiles, grid configurations, and more all drive variation in value and the subsequent implications for what a utility may offer and how a customer with a distributed battery system might choose to participate. There may be additional consequences from participating in one service that may preclude battery operators from participating in another (e.g., opting to be compensated via retail rates may preclude all participation in bulk system services). Regardless, if well-designed and successfully implemented, utility rates and incentive-based programs could lead to a more efficient use of existing grid resources, lower operating costs, improved grid reliability, increased battery value streams, and alignment with policy goals that promote battery or renewable interconnection. As distributed battery adoption increases, both regulators and utilities will need to understand how these systems operate in order to, at a minimum, ensure no adverse grid impacts, but more proactively encourage provision of societal and grid value beyond the customer domain.
The report can be downloaded from here: https://emp.lbl.gov/publications/opportunities-and-challenges
A free webinar to discuss the report's findings and conclusions has been scheduled for January 10, 2022, at 4 pm EST/1 pm PST. To register, please use this link: https://lbnl.zoom.us/webinar/register/WN_hT4FzLPjQc2ABwHr1jIg_w.
For questions on the report, feel free to contact Sydney Forrester at Lawrence Berkeley National Laboratory (510-486-4123, SPForrester@lbl.gov).
We appreciate the funding support of the U.S. Department of Energy's Office of Electricity, Energy Resilience Division and Advanced Grid Research and Development Division in making this work possible along with the support of the Energy Storage Grand Challenge.