A new study by Lawrence Berkeley National Laboratory finds that energy efficiency programs for customers of publicly owned utilities saved electricity at an average cost of 2.4 cents per kilowatt-hour (kWh) from 2012 to 2017. 
Utilities use such cost performance metrics to assess effectiveness of efficiency program portfolios, determine what programs to offer customers, and, more broadly, ensure electricity system reliability at the most affordable cost as part of electric utility resource adequacy planning and resource procurement processes.
The report summarizing the study, Cost of Saving Electricity Through Efficiency Programs Funded by Customers of Publicly Owned Utilities: 2012–2017, can be downloaded here. A webinar highlighting key findings will be offered at 10:00 a.m. Pacific/1:00 p.m. Eastern on January 15, 2020.
Host: Lisa Schwartz, Berkeley Lab
Speakers: Alex Hofmann, American Public Power Association
Lisa Schwartz, Steve Schiller, Greg Leventis, and Sean Murphy, Berkeley Lab
When: January 15, 2020, 10:00 a.m. Pacific/1:00 p.m. Eastern
Register: https://lbnl.zoom.us/webinar/register/WN_1Urq_qbdQuC5wGGzlp5a5A
The study analyzed efficiency program data reported by 111 program administrators for 219 publicly owned utilities in 14 states — about 90 percent of the municipal utilities and public utility districts that report the data to the Energy Information Administration (EIA). The data represent 88 percent of all spending and 75 percent of all savings that publicly owned utilities reported to EIA in those years. Berkeley Lab used data from several sources, including data provided directly by American Public Power Association members, publicly available annual reports and regional data collections.
Several previous Berkeley Lab studies have focused on efficiency programs for customers of investor-owned utilities. This is the first comparable study focused on publicly owned utilities, which in 2017 served about 15 percent of U.S. electricity customers and 16 percent of electric load served by utilities.
Nearly 60 percent of the savings publicly owned utilities reported are from commercial and industrial (C&I) customers. As Figure 1 shows, that sector has the lowest cost of saving electricity, at 2 cents per kWh. The cost for residential efficiency programs is higher, at 3.4¢ per kWh. (Berkeley Lab's report also provides data on low-income programs, a separate category.)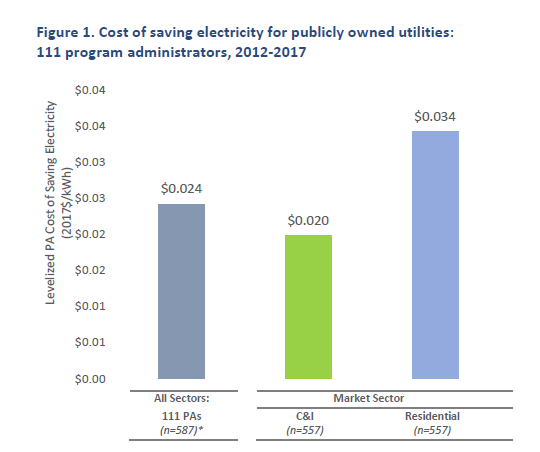 This result is in contrast to previous Berkeley Lab studies of investor-owned utilities, which found the residential sector as the least-cost source of electricity savings. Among the possible reasons are differences between the two types of utilities in reporting practices, measure types and assumed measure lifetimes for the residential sector.
The cost of saving electricity varies by geographic region, as is evident in Figure 2.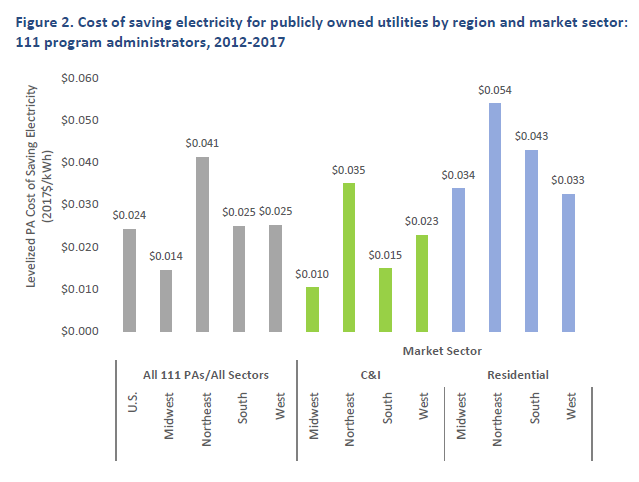 The study uses savings-weighted averages, assigning more or less value to the cost performance of each program based on annual electricity savings. Programs with larger savings have greater influence than programs with smaller savings. The large share of savings in the dataset from the West (72 percent) means that region has an outsized influence over national and market sector values in the report.
Based on a sample of utilities with continuous data over the study period, costs were fairly constant from year to year, while total electricity savings increased slightly from 1.1 percent of the utilities' retail sales in 2012 to 1.3 percent in 2017.
The findings are not a definitive measure of efficiency program cost performance for publicly owned utilities. First, while representing the vast majority of spending and savings they report to EIA, the study draws from 14 states, compared to 41 states for Berkeley Lab's most recent study for investor-owned utilities. Second, the data and savings are unevenly distributed, with larger utilities in the West and South heavily influencing the savings-weighted values. Further, collection and reporting of program data are not consistent across all utilities, and the majority of the utilities' reported data were not validated by independent third-party evaluators.
The study measures costs to utilities and does not include program participant costs. Among potential future areas of research are analyzing the total cost of saving electricity (including participant costs), strengthening regional analyses with data from additional publicly owned utilities, and assessing cost performance for the most prevalent types of programs these utilities offer.
The report, Cost of Saving Electricity Through Efficiency Programs Funded by Customers of Publicly Owned Utilities: 2012–2017, is at https://emp.lbl.gov/publications/cost-saving-electricity-through-0. 
The report authors are Lisa Schwartz, Ian Hoffman, Steve Schiller, Sean Murphy and Greg Leventis in Berkeley Lab's Electricity Markets and Policy Group. The U.S. Department of Energy's Office of Electricity, Transmission Permitting and Technical Assistance division, supported this work.