Electric utility customers spent about $5.8 billion on energy efficiency programs in 2016 to cost-effectively offset a portion of growth in U.S. power needs. That, in turn, affects the need for investment in new electricity infrastructure, across generation, transmission and distribution systems. A new study by Berkeley Lab provides a bottom-up assessment of the potential impact of existing and likely state policies and market conditions to promote or constrain future spending and savings for electricity efficiency programs funded by utility customers in all U.S. states.
A public webinar on the report, The Future of U.S. Electricity Efficiency Programs Funded by Utility Customers: Program Spending and Savings Projections to 2030,was held on December 12, 2018 and a recording of that webinar is posted here.
The new study includes three scenarios—low, medium and high cases—for 2030, with projections of spending and savings for interim years (Figures 1 and 2).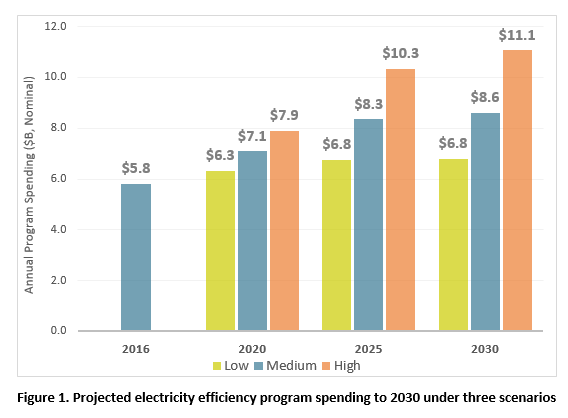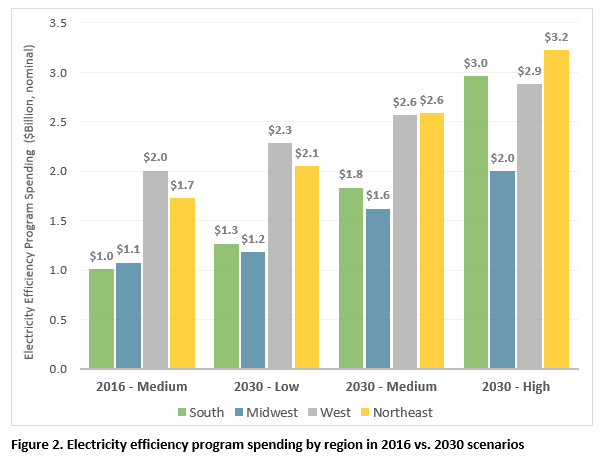 The scenarios represent different pathways for the evolution of electricity efficiency programs funded by utility customers given the current policy environment and uncertainties in the broader economic and state policy environment in each state. 
The medium scenario largely represents a continuation of current practices and policies, subject to known policy and market constraints. The study projects that most states generally stay the course on policies and meet savings targets. Some states are expected to expand their commitment to efficiency based on recent legislation or regulatory commission decisions, while other states are expected to throttle back their commitment to efficiency.
The low scenario represents a less prominent role for energy efficiency. States that are new to efficiency adopt a "go slow" approach; other states retreat from the current policy path.
The high scenario explores the possibility that states increase efficiency targets and budgets, driven by regional best practices that other states in the area follow, and adopt favorable utility business models and savings targets based on achievable potential for energy efficiency.
Researchers reviewed relevant state statutes, regulatory commission decisions, and filings of electric utilities and other efficiency program administrators and interviewed regulatory staff, energy efficiency experts, program administrators and other stakeholders to help inform scenarios and key assumptions.
The study considers key policy drivers in each state, including energy efficiency resource standards, statutory requirements that utilities acquire all cost-effective efficiency or include efficiency under state renewable portfolio standards, voluntary savings targets, public (or system) benefit charges that fund efficiency, integrated resource planning requirements, demand-side management plans, and policies intended to reduce utilities' disincentives or provide financial incentives to promote energy efficiency. Among the policy constraints included in the study are caps on program spending or rate impacts, as well as allowing large commercial and industrial customers to opt out of efficiency charges and programs.
Among the key findings of the study:
Spending on electricity efficiency programs is expected to rise to $8.6 billion in 2030 in the medium case, an increase of more than 45 percent compared to 2016 (see Figure 1). In the high case, annual spending increases by 90 percent compared to 2016 levels, reaching $11.1 billion in 2030. Spending in the low case remains fairly flat, increasing to only $6.8 billion in 2030.
Regional shares of national spending are expected to shift over time. In 2016, states in the West and Northeast accounted for 64 percent of national spending on electricity efficiency programs, while states in the South and Midwest accounted for 36 percent. In 2030, these values represent the estimated shares of national spending in the low scenario. In the high scenario, the relative share of spending in 2030 for states in the West and Northeast decreases to 55 percent of the national total, while states in the South and Midwest account for 45 percent (Figure 2).
Efficiency programs will continue to impact load growth at least through 2030. In the medium case, incremental annual electricity savings are expected to increase very modestly to 28 TWh in 2030. In the high case, annual savings increase to 38 TWh by 2030 (equal to about 1 percent of retail sales)—38 percent higher than savings achieved in 2016. Also in the high scenario, projected savings in the South are significantly greater compared to other regions. However, savings as a percent of retail sales in this 2030 scenario remain higher in other regions. In the low scenario, first-year savings are 27 percent lower compared to 2016.

While the study does not envision or quantify the impact of potential new drivers and delivery mechanisms, it highlights emerging challenges in developing a cost-effective portfolio of efficiency programs:
Developing additional technical opportunities for saving electricity
Focusing commercial and industrial programs more on smaller and mid-size customers, which tend to have higher costs than programs for larger customers, in states that allow large customers to opt out of paying for and participating in efficiency programs
Achieving deeper savings for participating customers and broader market penetration in states with stringent efficiency savings goals for future years
Designing innovative programs that offer attractive strategies and services — for example, strategic energy management for industrial customers, greater reliance on building control systems, incentives for product retailers and vendors, competitive procurements open to demand-side management aggregators to meet distribution system needs, and programs that integrate delivery of both electricity and gas efficiency programs
"Looking to 2030, utilities and other program administrators will grapple with significant challenges to develop a cost-effective portfolio of electricity efficiency programs," said Chuck Goldman, Berkeley Lab Staff Scientist and lead author of the report. "For example, new lighting standards will supplant much of the historic reliance on financial incentives for lighting improvements, and programs may increasingly need to pay attention to the time- and location-dependent value of energy efficiency."
The degree to which program administrators and states address these emerging challenges is likely to heavily influence the long-term pathway for spending and savings on efficiency programs.
The report, The Future of U.S. Electricity Efficiency Programs Funded by Utility Customers: Program Spending and Savings Projections to 2030, is available at https://emp.lbl.gov/publications/future-us-electricity-efficiency. The report authors are Chuck Goldman, Sean Murphy, Ian Hoffman, Natalie Mims Frick, Greg Leventis and Lisa Schwartz in Berkeley Lab's Electricity Markets and Policy Group. The webinar recording is available at https://emp.lbl.gov/webinar/future-us-electricity-efficiency-programs.
The work described in this study was supported by the U.S. Department of Energy's Office of Electricity, Transmission Permitting and Technical Assistance Division, Office of Energy Efficiency and Renewable Energy–Strategic Priorities and Impact Analysis, and Office of Energy Policy and Systems Analysis, and the U.S. Environmental Protection Agency.