When utilities and regional grid operators plan electricity systems, they estimate the system value of various types of resources. Performance assessments verify whether the expected grid services are actually provided.
In the case of distributed energy resources (DERs) that provide demand flexibility — demand response, energy storage and distributed generation — performance assessments determine the timing, location, quantity and quality of grid services delivered. Utilities and electricity markets use such assessments for financial settlements for their programs. Assessment results also can be used in resource potential studies and cost-effectiveness evaluations and to improve demand flexibility performance in the future.
A new State and Local Energy Efficiency (SEE) Action Network report by Lawrence Berkeley National Laboratory, Performance Assessments of Demand Flexibility from Grid-Interactive Efficient Buildings: Issues and Considerations, explains basic concepts and methods for assessing demand flexibility performance of buildings participating in programs and responding to time-varying retail rates (see figure). The report also provides information on prioritizing and designing performance assessment elements, advancing assessment protocols, and establishing research and development needs.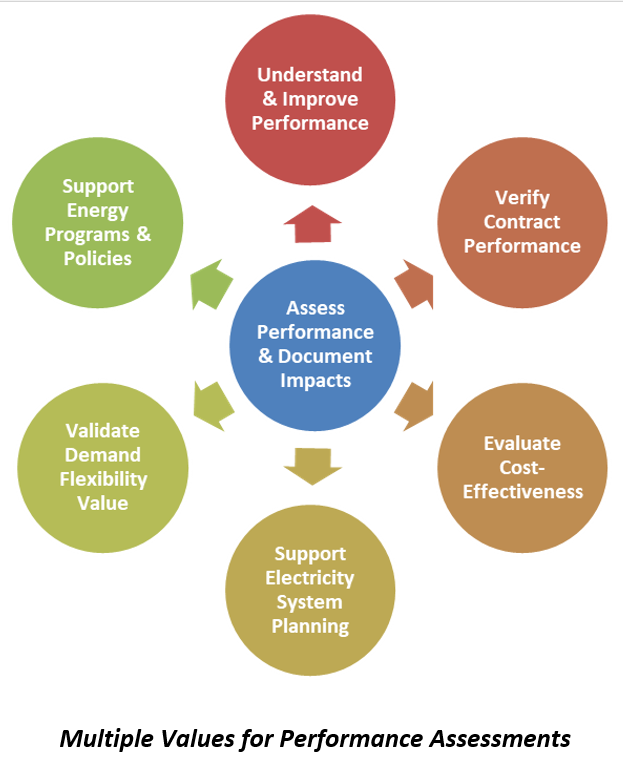 A webinar on the report is scheduled for September 1, 2020, 3 p.m. to 4 p.m. Eastern. Register for the free webinar here.
Buildings account for 75 percent of electricity consumption and in some regions up to 80 percent of peak demand. With many adjustable loads, buildings also represent the largest source of demand flexibility — the capability of DERs to adjust a building's load profile across different timescales.
Advances in performance assessments will be required in a future with grid-interactive efficient buildings that provide continuous demand flexibility by integrating multiple DERs and flexibility modes: load shed, load shift, modulate and generate. Among the areas that will evolve are baseline constructs, deployment of advanced metering and analytics, cybersecurity and communication standards, and metrics and assessment procedures for fast and frequent load response.
Lead report author Steven Schiller is a senior advisor affiliate with Berkeley Lab's Electricity Markets and Policy Department. An internationally recognized evaluation, measurement and verification expert, he is responsible for many of the guidelines and protocols used in the energy efficiency industry. He received lifetime achievement awards from the International Energy Program Evaluation Conference and California Energy Efficiency Industry Council. Lisa Schwartz and Sean Murphy are report co-authors.
The U.S. Department of Energy's Building Technologies Office funded this work to support the Grid-Interactive Efficient Buildings initiative. These energy-efficient buildings use smart technologies and on-site DERs to provide demand flexibility while co-optimizing for energy cost, grid services, and occupant needs and preferences in a continuous and integrated way. 
The views expressed here do not necessarily represent the views of the U.S. Department of Energy or the U.S. Government.