Register now for a free webinar, Thursday, October 3, 2019, at 2 PM Eastern / 11 AM Pacific at: https://cc.readytalk.com/r/m2q0pggs4cb5&eom.  
This webinar will focus on an extensive characterization Berkeley Lab has conducted on the commercial real estate rooftop solar energy market, a market that has faced significant barriers yet is picking up steam. The webinar will feature Ben Hoen the lead author of the report, Commercial PV Property Characterization: An Analysis of Solar Deployment Trends in Commercial Real Estate, as well as co-author Joe Rand.
The effort analyzed over 30,000 commercial real estate properties with solar photovoltaic (PV) energy installed though 2017. The properties covered 20 states and almost 30 different property types including industrial, warehouse, school/university, office, retail, and municipal/government. To better understand the unique qualities of the solar properties they were compared to more than 2.4 million non-solar properties in the same geographies.
The main focus of the research were penetrations of solar into these states and property types and how that has changed over time. Overall commercial rooftop PV penetrations have only surpassed 1% recently (in 2016) across all property types with education properties (schools and universities) leading at over 6% penetration and with NJ and CA seeing the highest overall penetrations close to 2.5% (see figure below). Also revealed were characteristics of those buildings, owners, and tenants and how solar penetrations change as those characteristics change. The research found clearly higher penetrations on owner-occupied larger (>9000 ft2) buildings with fewer tenants indicating, potentially, areas for future customer acquisition for PV developers.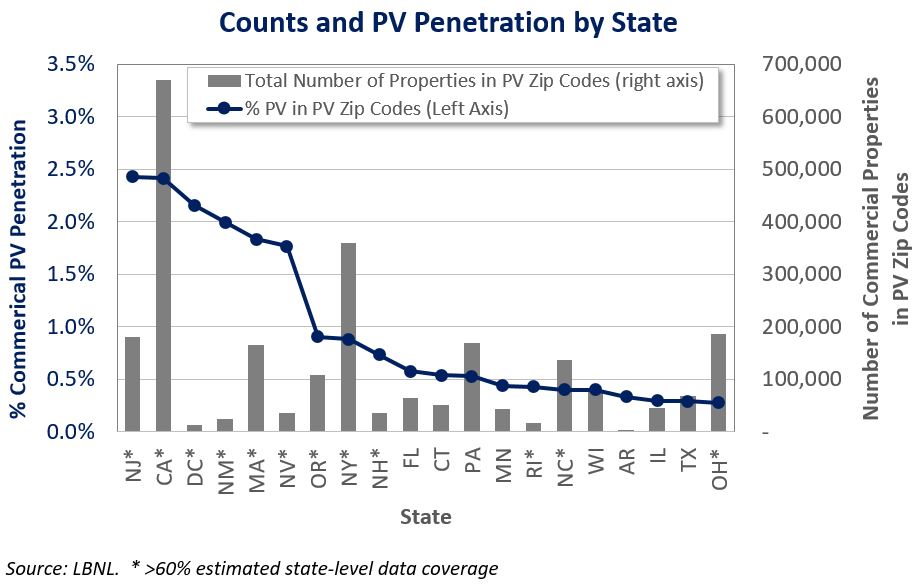 The researchers also investigated the differences of solar system characteristics on these properties such as system installed prices, size, and percentages of third-party owned (TPO) systems. Not surprisingly, they found a steady and substantial drop in installed prices over time. Interestingly, they also found a drop in the percentage of TPO systems being installed on commercial rooftops, as well as a relatively steady trend on system size. This latter finding indicates that smaller systems seemingly remain difficult to develop.
These results and others will be covered in the hour-long webinar, where there will also be time for Q&A. The full report Commercial PV Property Characterization: An Analysis of Solar Deployment Trends in Commercial Real Estate can be downloaded here.
We appreciate the support from the U.S. Department of Energy Solar Energy Technologies Office, which made this work possible.