Berkeley Lab and National Renewable Energy Lab (NREL) present a free webinar on December 10, 2019, to discuss a new report, End-Use Load Profiles for the U.S. Building Stock: Market Needs, Use Cases, and Data Gaps.
Who: Natalie Mims Frick, Berkeley Lab
         Eric Wilson, NREL
         Monica Neukomm, Department of Energy
Date: December 10, 2019
Time:10:30-11:30 a.m. Pacific
Register: https://cc.readytalk.com/r/duyyfp7wehhl&eom
The report can be downloaded here or from https://emp.lbl.gov/publications.
States and utilities are developing increasingly ambitious energy goals. Part of the solution to meeting these goals is improving electric grid flexibility. This includes shifting electric demand to align with grid needs. Thus, identifying and using building energy efficiency and other distributed energy resources to produce the highest grid value requires highly resolved, accurate and accessible electricity end-use load profiles.
End-use load profiles quantify how and when energy is used. They are critically important to utilities, public utility commissions, state energy offices, energy researchers and other stakeholders. Applications focus on R&D prioritization and valuing and using energy efficiency, demand response, distributed generation and energy storage in utility and state planning processes (see table).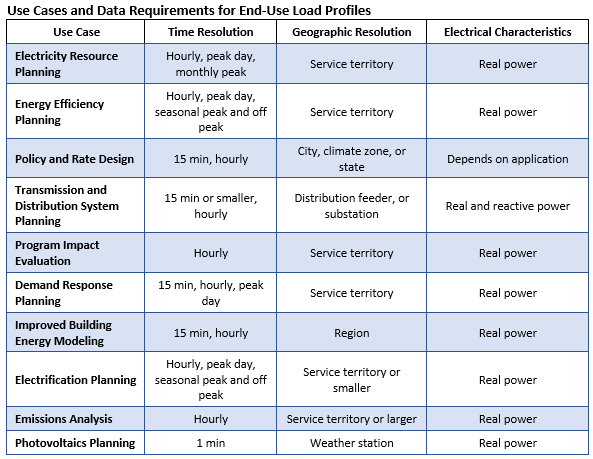 Most publicly available end-use load profiles are dated and have limited geographic representation. To help fill this gap, the U.S. Department of Energy (DOE) funded a three-year project to produce electricity end-use load profiles with time-sensitive resolution for residential and commercial buildings throughout the United States. Development of these load profiles will help advance adoption of Grid-interactive Efficient Buildings, which use smart technologies and onsite energy resources to provide demand flexibility while co-optimizing for energy costs, grid services, and occupant needs and preferences in a continuous and integrated way.
The project team is currently assembling end-use load profiles through a combination of physics-based stock modeling and available field data (see figure). In the second and third years of this study, the project team will refine and calibrate national-scale building stock models (NREL's ResStock™ and ComStock™ models) to produce end-use load profiles at both aggregate and individual building scales.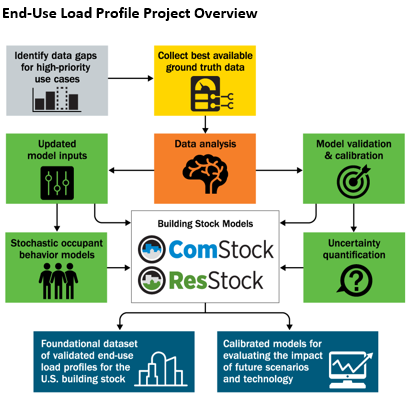 In this initial webinar, researchers will discuss:
Goals of the project
Top 10 prioritized end-use load profile use cases, as identified by the project technical advisory committee
Geographic, temporal and electrical characteristics data needs for the prioritized use cases
Data gaps for the ResStock and ComStock models and approaches to fill the gaps
Next steps to verify the accuracy of the calibrated model outputs.
The Building Technologies Office of the U.S. Department of Energy's Office of Energy Efficiency and Renewable Energy supported this work.