New data compilation from Berkeley Lab tracks existing and proposed projects
As battery prices fall and wind and solar generation rises, power plant developers are increasingly combining wind and solar projects with on-site batteries, creating "hybrid" power plants. But hybrid or co-located plants have been part of the U.S. electricity mix for decades, with widely ranging configurations that extend beyond pairing a generator with a battery.
A new summary from Lawrence Berkeley National Laboratory tracks and maps existing hybrid and co-located plants across the United States while also synthesizing data from generation interconnection queues to illustrate developer interest in the next wave of plants. The work follows earlier research published in the Electricity Journal that reviewed the benefits and drawbacks of hybrid power plants, the relative costs and grid-system value of such plants in comparison to stand-alone assets, and the variety of market planning and operational issues facing ISO/RTOs and others. It also comes in advance of an upcoming FERC technical conference that will address some of the technical and market issues prompted by the rising interest is hybrid power plants.
The scope of the new data summary is inclusive of co-located hybrid plants that pair two or more generators and/or that pair generation with storage at a single point of interconnection, and also full hybrids that feature co-location and co-control. 'Virtual' hybrids that do not include co-location are excluded. The focus is on larger, 1 MW+ systems: smaller (often behind-the-meter) projects are also increasingly common, but are not included in the data synthesis. The briefing is accompanied by two data visualizations, one focused on online projects and the other on those in interconnection queues.
Based in part on EIA Form 860 data, there were at least 125 co-located hybrid plants (>1 MW) already operating across the United States at the end of 2019, totaling over 14 GW of aggregate capacity.
Some of the most common configurations include wind+storage (13 projects, 1,290 MW wind, 184 MW storage), PV+storage (40 projects, 882 MW PV, 169 MW storage), and fossil+storage (10 projects, 2,414 MW fossil, 91 MW storage). But many other configurations exist, for example, fossil+PV, fossil+wind, wind+PV, hydro+storage, geothermal+PV, CSP+storage, and more.
The hybrids that include wind and PV are summarized in the figure below. Wind hybrids have been most common in ERCOT and PJM, with PV hybrids sprouting first in the non-ISO West, ERCOT, and Southeast.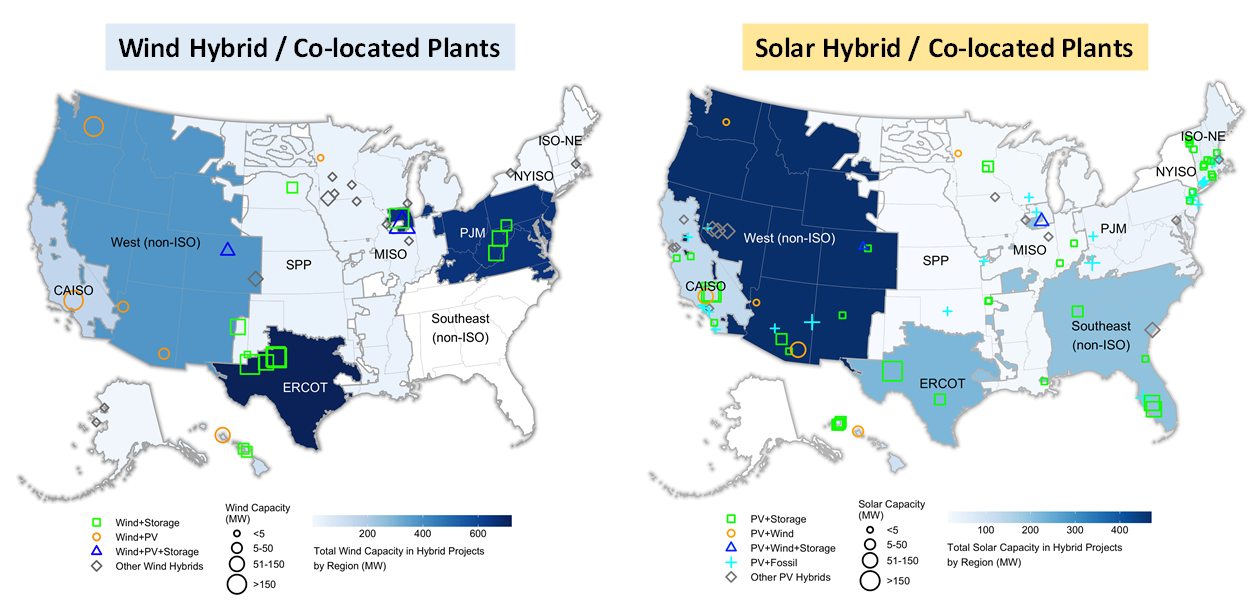 Among the existing generator+storage plants, storage durations are higher, on average, when storage is paired with PV. This suggests that the storage is used to serve arbitrage and capacity needs in addition to delivering ancillary services. Storage paired with wind and fossil assets, meanwhile, has largely been intended to meet ancillary service needs, at least up to this point.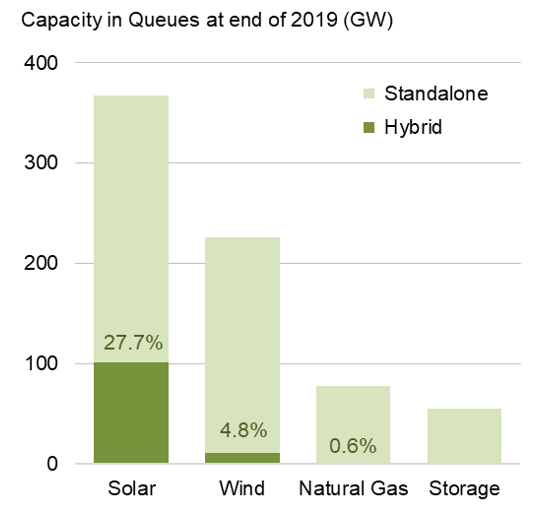 Data from the generation interconnection queues of all seven ISOs/RTOs in concert with 30 individual utilities demonstrates the considerable commercial interest that exists in hybrid power plants, especially solar co-located with storage. By the end of 2019, there were at least 367 GW of solar plants in the nation's queues; 102 GW (~28%) of this capacity was proposed as a hybrid, most typically pairing PV with battery storage. For wind, 225 GW of capacity sat in the queues, with 11 GW (~5%) proposed as a hybrid, again most-often pairing wind with storage. While many of these specific projects will not subsequently reach commercial operations, the depth of interest in hybrid projects—especially involving PV—is notable.
The proposed solar+storage plants are located throughout the United States, but with California and the non-ISO West being the most prominent areas of commercial interest. Proposed wind+storage and standalone storage plants also center on these regions of the country (see figure below). In CAISO, 67% of all solar capacity and 50% of all wind capacity in the queues is proposed as a hybrid. Commercial interest in California no doubt derives from the state's energy policies, but is also driven by the pronounced daily wholesale pricing patterns induced by high solar penetrations that create arbitrage opportunities for storage that do not yet exist in the same magnitude in most other wholesale markets.

Data availability for hybrid plants is limited, especially given the wide variety of hybrid plant configurations. Even standardized definitions for what constitutes a hybrid is lacking. Nonetheless, this synthesis of available data shows that a variety of full hybrid and co-located hybrid plants already exist within the U.S. electricity generation mix, and that those plants will likely soon be dwarfed by new plants—principally PV+storage, and focused to a degree on CAISO and western United States.
For further details on these findings and others, please refer to the short PowerPoint-style data compilation, which can be downloaded here. The briefing is also accompanied by two data visualizations, one focused on online projects and the other on those in interconnection queues.
The views expressed here do not necessarily represent the views of the U.S. Department of Energy or the U.S. Government.