As concerns about social equity and clean energy rise, a growing number of state and local governments, utilities, and non-profit organizations are promoting solar power to reduce energy bills for low- and moderate-income (LMI) households, while meeting other policy goals such as job creation and clean energy generation.
At least 41 active programs in 21 states have made funding commitments totaling well over a billion dollars. The programs provide favorable financing to eligible households, give upfront or production-based incentives, or create LMI set-asides in broader distributed solar programs. A growing number are community solar projects that credit the value of the generation to the bills of eligible customers.
A new study from Berkeley Lab looks at how those programs are being evaluated. These LMI solar programs are mostly young, operate on tight budgets, and vary considerably in their design and stated goals. Consequently, well-designed program evaluation is critical to better understand what is working, what could be improved, and how to maximize program impacts under budget constraints.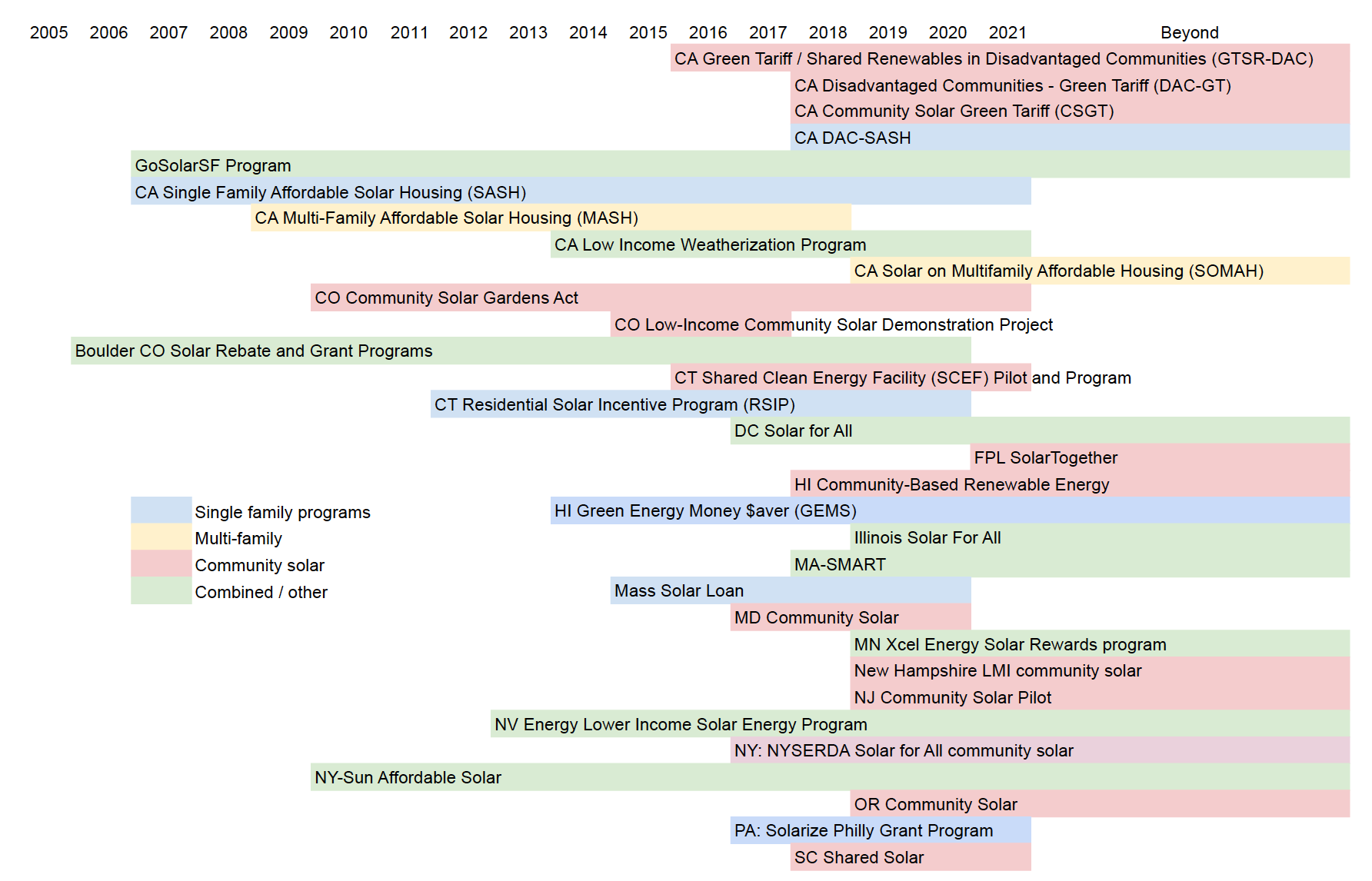 Dozens of programs help low- and moderate-income communities go solar
The report, An Assessment of Evaluation Practices of Low- and Moderate-Income Solar Programs, finds that only a few of the programs have undertaken rigorous third-party evaluations, looking at both processes and impacts, and analyzing internal and external data sources. While these are "best practices" in the evaluations of utility energy efficiency programs, they are not common in LMI solar programs. Only about one-third have made evaluation reports public. Instead, most programs issue progress reports that summarize basic metrics such as program expenditures and installed solar capacity, most often to show compliance with laws and regulations. A smaller number tally the number of jobs created, bill reductions, and power generation.
The quality of the evaluations often hinges on whether the programs follow a number of best practices. For example, clear, specific, and measurable program goals help define what and how to evaluate performance. Building consistent data collection and analysis into program operations enables the program to perform a continuous evaluation that feeds back into improved operations. Given the importance of social outcomes in LMI solar programs, evaluations can also focus on non-energy benefits such as improved wealth, health, and safety.
Collecting multi-dimensional data that directly aligns with program goals and can measure progress allows for a more detailed look at correlations and causations. The study expands on this point by exploring statistical methods that can tap publicly-available data as a low-cost way to increase the rigor of evaluations.
In sum, this meta-evaluation asks how LMI solar programs are being evaluated, how those evaluations compare to best practices, and how program administrators could improve future evaluations.
A webinar with the authors will be held on Thursday, May 20 at 10am Pacific time / 1pm Eastern time. This webinar is presented by the Clean Energy States Alliance (CESA) as part of the Scaling Up Solar Project. Register for free at https://register.gotowebinar.com/register/1235996619782593549.
 An Assessment of Evaluation Practices of Low- and Moderate-Income Solar Programs was written by Bentham Paulos, Sydney Forrester, Eric O'Shaughnessy, Christopher Dyson (DNV GL), Galen Barbose, and Ryan Wiser. Questions can be directed to benpaulos@lbl.gov.
Funding was provided by the Solar Energy Technologies Office (SETO) of the U.S. Department of Energy's Office of Energy Efficiency and Renewable Energy under Lawrence Berkeley National Laboratory Contract No. DE-AC02-05CH11231.
The Electricity Markets and Policy Department at Berkeley Lab conducts technical, economic, and policy analysis of energy topics centered on the U.S. electricity sector. Follow us on Twitter at @BerkeleyLabEMP.