As solar panels cover more rooftops, and buildings with load controls and storage provide more grid services, understanding the value of distributed energy resources (DERs) is increasingly important. Yet few utilities and states consider their value at specific points on the electric system in planning, procurement, and design of DER programs and rates.
A new Berkeley Lab report, Locational Value of Distributed Energy Resources, explores economic valuation and regulatory considerations for assessing locational value. A free webinar on the report will be held on March 9, 2021, at noon Pacific/3 p.m. Eastern. Register for the webinar here: https://lbnl.zoom.us/meeting/register/tJYpceGvpjsqGNKEGdyU4wcb1y_8wrJXZNKH. Presenters are Natalie Mims Frick (Berkeley Lab) and Snu Price (E3), with audience Q&A moderated by co-author Lisa Schwartz.
DERs can provide significant benefits to the grid by generating electricity or controlling or reducing electricity consumption, avoiding some types of electricity system costs. The potential value of a DER at a specific location on the grid depends on its capability and potential costs it can avoid at that location.
The report focuses on potential DER benefits for distribution systems, primarily in their role as non-wires alternatives to defer, mitigate, or eliminate the need for some traditional system investments at locations where distribution capacity is insufficient to meet expected future needs. DERs that avoid distribution system losses also may reduce transmission system losses and generation capacity needs. These reductions may have other important benefits, including achieving goals for greenhouse gases and other air pollutants. (See table below.)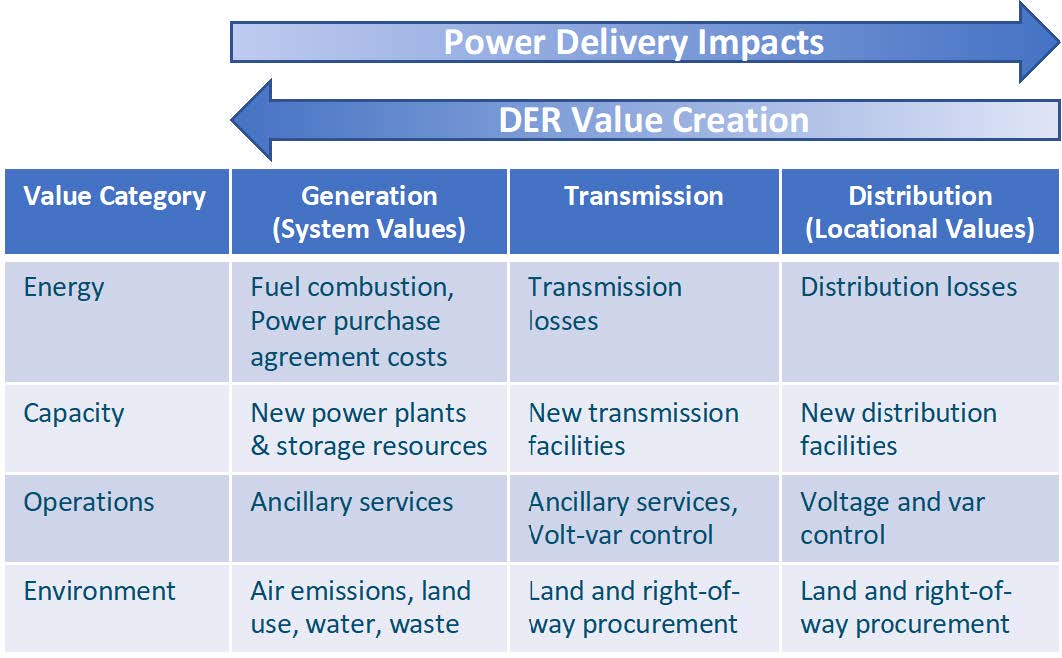 In addition to analyzing DERs as potential alternatives to specific traditional distribution system projects, utilities can conduct systematic studies of the locational value of DERs to better understand where to target DERs, calibrate incentive levels, reduce load growth for specific areas of the distribution system, and reduce the need for traditional distribution system upgrades. These studies can become a routine and transparent part of the utility's distribution planning process. Information also can be used for DER programs and rate designs.
The report describes approaches and tools to estimate the locational value of DERs. State guidance to utilities varies with respect to these methods and approaches to procuring DERs to meet distribution and transmission needs. The report includes 24 case studies to illustrate how states and utilities are considering the locational value of DERs (see map).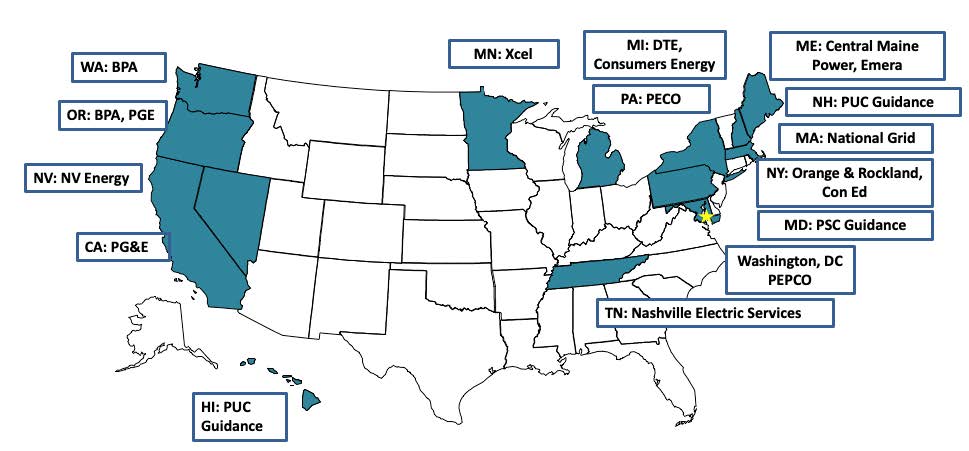 The principal authors of the report are Natalie Mims Frick, Lisa Schwartz and Nicole Hanus of Berkeley Lab, and Snuller Price and Ben Shapiro of Energy and Environmental Economics, Inc. The U.S. Department of Energy's Office of Energy Efficiency and Renewable Energy, Strategic Analysis, funded this work.